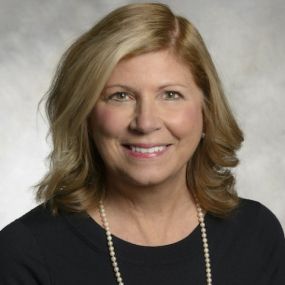 2021 National Communicator
Terri Giltner
Chief Marketing Officer
Kentucky Community & Technical College System
Versailles, KY
Terri Giltner had been working on the presentation for a few weeks, and she was excited to show it off to the audience of 16 college presidents within the Kentucky Community & Technical College System (KCTCS) – and her boss knew it.
"When we were going into the presentation, my president turned to me and said, 'Just tone down the enthusiasm,'" Giltner says.
That's because he knew that Giltner is enthusiastic. She's optimistic, and she's passionate. Her grandmother taught her, "You have to love what you're doing, even if you're sweeping the floors."
Giltner brings that optimism and work ethic to her position as KCTCS's chief marketing officer, a role she's filled since 2005. It's part of the reason she was named NCMPR's 2021 Communicator of the Year, which recognizes a member for leadership and ability in college communication.
Career professionals bring their résumé of experiences to their current jobs, and Giltner's résumé might be one of the most unusual among NCMPR membership: After college, she worked as a flight attendant and trainer. She then found a training job at KFC. After earning her MBA, she moved to KFC's national marketing department. Her to-dos included menu boards, special promotions and store openings. She's responsible for one of the restaurant's largest new product rollouts at the time – Chicken Littles, which were KFC's first sandwiches.
"The things I learned in training, I still use in terms of marketing," she says. "KFC gave me the fundamentals of marketing and understanding the processes of things that have not changed."
When Giltner left KFC, she helped start a company to develop new products for restaurants, but a series of life events led her to quit that position.
So she asked for help: "I called my mother one day, who worked for the governor of Kentucky, and said, "Is there some sort of short-term job I could do?'"
Two weeks later, she was the executive director of public affairs for the Kentucky Transportation Cabinet. Two years later, she moved into communications within the governor's office.
Giltner is just the second person to hold her current position at KCTCS, where she oversees the marketing strategy of the statewide system, including 16 colleges with 70-plus campuses. She has created and overseen crisis communication policies, branding, web services, social media and media relations. She not only worked on a state bill to help KCTCS students easily transfer to four-year schools, but she led the entire campaign.
"She's been instrumental in our communication strategies for advocacy and led our largest statewide events to prevent state appropriation cuts," writes Dr. Paul Czarapata, KCTCS interim president "She insists on basing communication and marketing campaigns on research, because as she says, 'Without research, it's just an opinion.'"
---