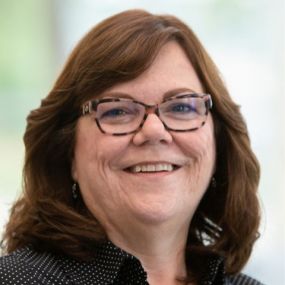 2019 National Communicator
Heather McDorman
Vice President for Marketing and Student Life
St. Charles Community College
Cottleville, MO
There's no question that Heather McDorman has left an indelible mark on St. Charles Community College (SCC) over the past 30 years. In three decades, she has worn many different hats, risen through the marketing and communication ranks, and landed firmly in her current role as vice president for marketing and student life. It's safe to say that she's "been there, done that."
A glimpse into her career at St. Charles also reveals that McDorman has weathered several presidential transitions, multiple reorganizations, and countless staff changes. She was one of the first to assume responsibility for both marketing and admissions at her college. She has elevated the profile of marketing and communication on campus by establishing it as a key contributor to the success of enrollment and the college as a whole. In her current role, McDorman's expertise continues to positively impact other areas on campus, including professional counseling and disability support services, student activities, athletics and, most recently, government relations.
McDorman's numerous accomplishments include:
She shepherded two college rebranding efforts, providing leadership on research and development and successfully gaining support from all constituent groups. Additionally, she's helped improve public perceptions of SCC among civic and business leaders.

She was instrumental in efforts to expand the college's service area to a neighboring county, and she's now overseeing a comprehensive informational campaign to bring that county into the college's taxing district. McDorman is also working directly with key legislators to garner support for a $5 million capital request for a new building in that same county.

Having been part of several major employee realignments on campus, which have included changes in her own responsibilities, McDorman successfully worked with staff to alleviate their concerns during the transitions, and she has mentored those in her own department to help them take on leadership roles within SCC.

With a focus on strengthening internal communication, McDorman worked with her president to launch "Touch Base Tuesday," a weekly email communication sent to campus constituents.
Outside of SCC, McDorman passionately advocates for marketing and communication professionals. She's involved in a variety of professional organizations, including the Missouri Community College Association, the Western St. Charles County Chamber of Commerce and PRSA. She also contributes to NCMPR's Counsel magazine and AACC's CC Daily.
She's served in many different leadership roles within NCMPR, including District 5 director (2004-07), the Executive Committee (2007-10) and president in 2010-11. Described as "a leader among leaders," McDorman frequently presents at district and national conferences. She's a strong proponent for attending NCMPR conferences – not only to support the growth and development of her team but also to engage in professional networking opportunities.
Dr. Barbara Kavalier, president and CEO at SCC, says it best, "Vice President McDorman is a consummate professional who brings energy, creativity and professionalism to her work. She demonstrates exceptional leadership skills in building cohesive teams, coordinating marketing and communication initiatives, and developing successful relationships with both internal and external communities. She is most deserving of this award."
---