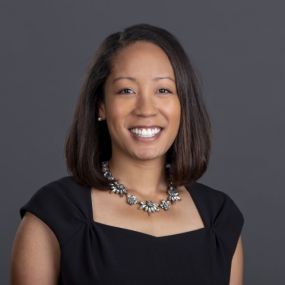 2023 National Communicator
Fiona Lytle
Chief Communications Officer/Legislative Liaison
Colorado Community College System
Denver, CO
Fiona Lytle, NCMPR's 2023 national Communicator of the Year, comes from a line of dentists. She grew up in a dental office. She was always good at math and biology. She knew she'd study something STEM-related in college, and dentistry made sense.
Throughout her bachelor's program, she experienced dental office settings. She racked up intern hours. She had the experiences necessary to decide this was a good path.
Then, during a walk-through in a dental office, while shadowing a dental surgeon, she had a sort of aha moment: I'm going to have to touch people ... aggressively. And, then she nearly passed out during a routine surgical procedure.
"It was one of those, 'I'm very sure of myself, and now I'm not doing this,'" she says.
Luckily for Lytle, the chief communications officer/legislative liaison at the Colorado Community College System (CCCS), she had spectacular mentors during her undergraduate years at the University of the Pacific in California. They saw her success as a resident assistant and student ambassador and asked, "What do you think about a career in student affairs?"
She hadn't heard of such a thing before. But as she learned about student affairs and working in higher ed, it all made sense – even, and especially, with her STEM background.
"Being able to get into the data has always been huge," she says. "That's what makes the communication so strong, because you can connect what's really important and what matters. There's no one in comms that doesn't have to cross paths at some time with IT folks. Understanding the lingo, you can read through it and pull out what you need without needing a translator."
Lytle has been with CCCS for five years, and her first big project was to rebrand the system office for a 13-college, 35-location system. Community members knew the system existed, but they never invited CCCS to participate in state-level meetings or partnerships. No one recognized the system as the go-to resource for training the area's future workforce.
So she created a brand, guidelines and talking points. She created pieces the system still uses today.
"The marketing is inspiring and relevant to the issues facing leaders today," she says. "It was beautiful. We still get compliments on it."
She helped shift how the system and colleges view and present messaging, on everything from a blog post to a ribbon cutting. It's not always saying "enroll today" because that's not necessarily the goal of the system office. Instead, it's trying to elevate the overall appeal of the colleges – which is admittedly a tough task.
And she trained both staff members and all the college presidents on how to talk about CCCS. First, though, she had to get everyone on board – —which can be tough in a system set-up, when colleges don't always feel like the umbrella office knows the goings-on at the college level.
It's an especially tough road to navigate as a young leader, but she got every person on board. Today, presidents pull her aside and thank her.
"The project not only modernized the look, feel, and tone of the system but also put CCCS on par with well-resourced, flagship four-year institutions," CCCS communications manager Lindsay Sandoval writes in Lytle's nomination. "Fiona's tireless work has catapulted CCCS onto the state, regional and national stage."
---