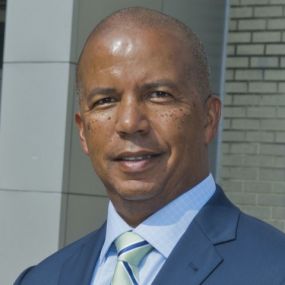 2021 National Pacesetter
Dr. Donald Generals
President
Community College of Philadelphia
Philadelphia, PA
Dr. Donald "Guy" Generals is a big believer that a person has to be more than his job.
"I don't think you should be a one-beat drummer if you're a college president," he says. "You need a life and other interests."
It's an apt metaphor for the president of the Community College of Philadelphia (CCP) to use: He's a jazz drummer. He's also a reader and a runner. In high school, he thought he'd be a professional football player. In college, he thought he'd be a lawyer. His bachelor's degree is in political science – but a stint as a tutor changed his entire path.
Today, Dr. Generals has been in higher ed for 37 years, and he is NCMPR's 2021 Pacesetter of the Year, which recognizes a college CEO for leadership and support of their marketing staffs.
Jeremiah White, CCP's Board of Trustees chair, writes that Dr. Generals' priority for CCP is not to receive recognition, but to better lives. He so believes that access to education is a fundamental right that he's written a book about one of progressive education's early supporters. "Booker T. Washington: The Architect of Progressive Education" came out in 2013 and stemmed, in part, from Dr. Generals' dissertation.
Dr. Generals considers civic engagement and community leadership a priority for CCP, so it was important to engage the community in a conversation around race in response to George Floyd's murder last spring. For the college's "Enough is Enough" project, a series of community conversations to provide a safe space for students to work through trauma, Dr. Generals brainstorms conversation topics and has been the host for each virtual event.
"I spoke forcefully for us to be leaders" in the conversation, Dr. Generals says. "I think it's part of what community colleges should do: not just offer classes and programming, but engaging and providing a voice for our community."
He recognizes that it can be risky for a public figure to speak about topics like race or the Black Lives Matter movement, but he considers it his duty. Historically, when society has been in the midst of racial, social or economic change, higher ed institutions are often at the center of those movements, he says.
His efforts have been widely recognized, including by the Philadelphia Tribune magazine, which named Dr. Generals a 2020 Most Influential Leader, an award given to Black leaders in the region for outstanding commitment to the community.
"Community colleges are uniquely positioned to be leaders in matters of social justice, racial justice and economic justice," he says. "Some get offended when the conversation gets too overly racial in nature, but I think it's an issue that has to be discussed. We have to be forceful and speak truth to power in terms of education and roles we play in the community."
---