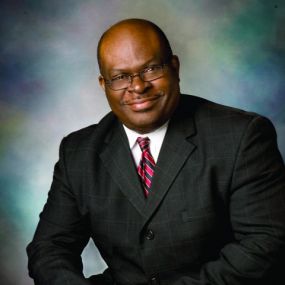 2023 National Pacesetter
Dr. David Sam
President
Elgin Community College
Elgin, IL
Dr. David Sam has overseen quite the collection of accolades and awards for Elgin Community College (ECC) in Illinois during his 16 years as its president. One of the successes he's most proud of is also one of the most impressive: During Dr. Sam's tenure, ECC has issued more than 55% of all the degrees and certificates awarded by the college, which opened its doors in 1949.
A college doesn't boast that kind of completion rate without valuing and resourcing its marketing and communications department, which Dr. Sam calls the front gate to the college. It's one of the reasons he has received NCMPR's 2023 national Pacesetter of the Year Award, which honors a two-year college president who has demonstrated special leadership and support of their college's communications and marketing efforts.
His support of marketing extends beyond operations: He participates in social media posts, welcome videos and holiday videos each semester, says Jennifer Rakow, ECC Board of Trustees chair, in Dr. Sam's nomination letter for the award. He films TikToks with students and even provides his cell phone number to area media.
He invests in his marketing team, adding and redefining important positions and encouraging professional development in organizations like NCMPR.
"Dr. Sam's ability to inspire and lead the ECC team has transformed the college from a respected community institution into a nationally known model and incubator of innovation among two-year postsecondary institutions," Rakow writes.
Dr. Sam is a native of Ghana, and he first came to the United States as a foreign exchange student in the 1970s. His host father was a professor at Illinois State University, and, within 36 hours of arriving to his new home in Eureka, Illinois, he was on campus, saying, "This is where I'd like to do my undergraduate education." He wanted to be a diplomat and a college professor, and his academic degrees prepared him for those roles.
During a professorship at College of DuPage, a mentor had a different idea: "In six years, you'll be a college president." The mentor, Dr. Mary L. Fifield, who had recently left City Colleges of Chicago to be a vice president at Mott Community College in Michigan, asked Dr. Sam to apply for an open dean position at Mott. He said he wasn't interested. A year later, she called about the same position.
He applied the second time around, and he got the position. When she left for Harrisburg Area Community College and again invited Dr. Sam to apply for an open position again, he became its vice president for academic affairs.
His career has also taken him to University of Akron in Ohio and Lone Star College-North Harris in Texas. After so much moving around, Dr. Sam and his wife, who is also from Ghana, decided it was time to be near family in Chicago. In 2007, he started as ECC's president, where he has been since.
"It's been a wonderful 16-year journey," he says. "At the heart of it is marketing and communications, (which) has allowed us to be known very much in this community and beyond."
---