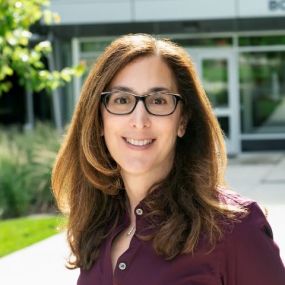 2022 National Communicator
Eve Markman
Executive Director of Creative Services
Community College of Philadelphia
Philadelphia, PA
Eve Markman was a fine arts major in college, and she recalls how confused her projects left her professors. One moment, she'd focus on this tiny, precious piece, something that could fit between your pointer fingers and thumbs. For her next project, she'd up the scale and work on a piece that could barely fit between her arms.
"My professors were like, 'What kind of job are you ever gonna have?'" she says. "You get bored so easily."
It's exactly what makes her position such a great fit for her: Markman is the executive director of creative services at the Community College of Philadelphia, where she has worked since 1993. Over the years, her position has grown and changed, including creating the first website and moving from mostly print materials and ads to doing more digital work. The duties are always changing, which keeps the jog engaging—and never boring.
Markman is NCMPR's Communicator of the Year, which awards an NCMPR member for their leadership and ability in college communications. Markman's leadership style is one that invites input from her team and involves her staff in decision-making. She knows that when choices are made at a leadership level, it's important for the people doing the work to know what's going on.
At weekly creative services meetings, she keeps her staff updated on what's happening at the college, and she encourages them to share ideas and ways to help.
"I think people being aware of what's going on and people feeling they have a voice in how we do things makes for a better, stronger team and people who are more engaged," she says.
Markman has grown her department over the years, incorporating additional skilled graphic designers and adding videography into job descriptions to market the college as the only public, two-year college in an area with 80 other higher education institutions.
"Eve is a dedicated member, leader and collaborator," writes Nikki Sarpolis, the college's digital editor/writer, in Markman's nomination. "She realizes that success involves building relationships and communicating regularly about goals, expectations and projects."
Markman constantly questions how something can be improved, whether it's a finding a more specific mailing list to reach an intended audience, creating ads to meet client and marketing expectations or falling back on her fine arts degree in design.
She used that skill a few years ago to help illustrate a children's book for area elementary schools. Another college's children's book project won a Paragon award at NCMPR's 2018 national conference in Las Vegas, and Markman loved the idea. She pitched the concept to a then-interim vice president, who immediately approved, and asked her team if anyone would want to volunteer to help. A few writers took on the story, a soft sell for college called "Oh Dear, What's a Career?"; a graphic designer worked up the characters; and Markman hand drew the background illustrations.
"That's the great thing about NCMPR right?" she says. "We're not reinventing the wheel. The idea completely came from NCMPR."
The Communicator of the Year Award honors a two-year college marketing professional who has demonstrated leadership and ability in college communication. It's awarded annually in each of NCMPR's seven districts, and district recipients automatically qualify to compete for the national award.
---