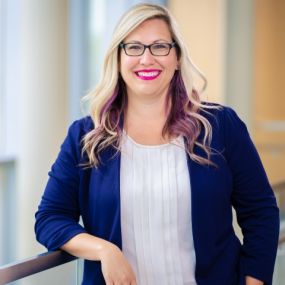 2022 National Rising Star
Elissa Kojzarek
Communications and Social Media Manager
Elgin Community College
Elgin, IL
She's a little like Elgin Community College's own personal reporter: She's never in her office. She's always on the beat. She knows everyone. Everyone knows her.
"When I started, my previous supervisor told me, 'I don't expect to see you at your desk all the time. If you are at your desk, you're not doing your job correctly,'" says Elissa Kojzarek, Elgin's communications and social media manager. "You can't know (what's going on) sitting at the desk."
Kojzarek (say co-ZAR-ek – just pretend that J is a dash) is NCMPR's National Rising Star, an award that honors up-and-comers in two-year college communications. With her natural curiosity and love of talking to people – and a preference to be behind the camera – Kojzarek took to her role easily.
As a result of that relationship-building, she doesn't always have to search for social media opportunities. Instead, they come to her, like when the director of the student-run restaurant emails her about the pastry techniques students will be working on, and would Kojzarek like to film some short videos for social media?
Helping others succeed has been an easy bridge between her current work and her non-profit background. Kojzarek has 10 years of experience at her local United Way, including as its director of marketing.
"When working for a nonprofit, the goal is always to serve someone else," she says.
Her passion for promoting student stories and increasing local awareness of what ECC offers has led to more followers and engagement across all ECC social media channels, even in the midst of a global pandemic. The sports-themed Get in the Game series campaign humanized faculty and eased the anxiety of online learning. Similar to professional baseball cards, the campaign featured "stats" like years teaching and degrees earned to introduce faculty to students. Posts linked to registration pages drove traffic and impacted enrollment. The campaign's graphics and photography generated so much conversation and attention, another regional community college launched a similar campaign and gave a shout-out to ECC for the inspiration.
In addition to managing all of the college's social media channels, Kojzarek handles internal communications; creates content for the weekly employee newsletter, Spartan Review; and manages ECC's digital communications, including electronic signage and the college's online newsroom.
Kojzarek is known for being ready to help out where needed. She worked alongside the chief marketing and communications officer and volunteered for additional work during a time of turnover, including stepping into the role of a previous supervisor after a resignation.
"She brings harmony and has contributed to the overall positive morale in the marketing and communications department," writes Rita Elliott, ECC's senior director of communications, in Kojzarek's nomination. "She makes her job fun and puts everyone at ease who works with her."
The Rising Star Award recognizes an up-and-coming communication professional at a two-year college who has demonstrated special creativity or ability in college marketing and PR and shows evidence of a promising future in the field. It's awarded annually in each of NCMPR's seven districts, and district recipients automatically qualify to compete for the national award.
---