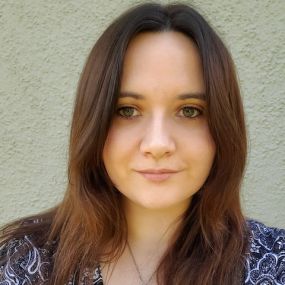 2021 National Rising Star
Lindsay Hocker
Marketing Specialist
Black Hawk College
Moline, IL
Being the first employee in any position can be equal parts nerve-wracking and exciting. Scary and inspiring. Stressful and fun.
For Lindsay Hocker, it was mainly just the good adjectives.
Hocker is the first marketing specialist at Black Hawk College in Moline, Illinois. Within 2 ½ years, she had written more than 150 blog posts spotlighting students, employees, trustees and success tips. One post even helped a featured student land an internship. It's one of the many reasons Hocker is NCMPR's 2021 National Rising Star, which recognizes up-and-coming communication professionals.
"When we were writing the job description and dreaming of the ideal applicant, we had no idea we would be able to find someone to perfectly fill it as Lindsay has," writes Julie Wine Johnston, Black Hawk's assistant director of marketing and public relations.
Hocker may not have had a road map or to-do list from the previous marketing specialist, but she viewed the challenge as an opportunity "to move and shake things up a little bit" – both for the department and for her skillset. Hocker studied journalism in college; her strength is in storytelling, but she's used her new position to grow her abilities.
Today, one of her favorite parts of the job is video work, and she credits NCMPR for helping her figure out how to make her productions stand out. In June 2020, she attended an NCMPR webinar, "Producing Engaging Videos During COVID-19 and Beyond." One lesson she learned was that videos don't need entirely new content: It's A-OK to use previous footage, stock footage, graphics and animation.
"Right after that, I was feeling super inspired, and I made a video of what fall semester will look like with COVID going on," she says.
Hocker found stock footage of COVID-19 icons, like masks and thermometers, and she borrowed a video clip she'd previously shot of a packed orientation room. She crafted the video from beginning to end: She wrote the script, produced the video and pitched it to her boss.
"They loved it." Hocker says. "I used things I hadn't thought to use before. When you have those moments of inspiration and it works out, it feels great."
In addition to her video work, Hocker helped redesign the college viewbook and assumed responsibility for marketing and PR activities at a remote campus 50 miles from Black Hawk's primary campus. She developed the "BHC Got Me Here" campaign and worked on all campaign components: remote interviews, photography and content.
"What stands out in addition to what she does is the way she does it," Johnston writes. "I work very closely with Lindsay and appreciate her approach to her own work as well as how she collaborates as part of the team."
---