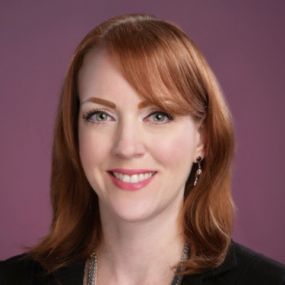 2019 National Rising Star
Laura Daniali
Communications Specialist
Edmonds Community College
Lynnwood, WA
When Laura Daniali applied for the position of communications specialist at Edmonds Community College two years ago, she did so with a sense of purpose. A former student at the college, she had great appreciation for the support she received during her academic journey and, ultimately, wanted to give back.
In the short time she's been at Edmonds, she's quickly become recognized as a highly valued employee, a self-starter and a true rising star. She writes most of the college's messaging, including press releases, letters, talking points and speeches, and serves as the college's backup public information officer. She has contributed significantly to the successful implementation of new campus initiatives, and she's helped foster important relationships with local media. She's also an incredible advocate for students and has demonstrated a keen ability to establish rapport with students, employees and members of the community.
Danielle Carnes, executive director of strategic initiatives and innovation at Edmonds, puts it this way, "To be an effective professional in this competitive environment, you have to be at the top of your game all the time. Talent, flexibility, creativity, self-motivation and the ability to work at light speed are minimum qualifications. Laura brings all of these qualities every day."
Daniali's notable contributions include:
As co-manager of the college's social media channels, she helped develop the #socialtritons ambassador summit. The quarterly event brings ambassadors from across campus to share best practices and ensure cohesiveness in the college's social media brand. She also refreshed the college's blog to align with new branding and increased traffic by cross-posting on social media channels.

To expand her knowledge of emergency communication, Daniali completed numerous emergency management trainings. When developing the college's first crisis communication plan, she compiled statewide best practices and is working closely with campus safety and security to integrate it into the college's emergency operations plan.

During the college's 50th anniversary, Daniali wrote a 16-page commemorative insert for the local paper that documented how the college has served the community, including a detailed timeline of its history. The insert was circulated in the local newspaper, distributed to key college stakeholders and shared at various events.

Daniali has cultivated important media relationships for Edmonds and has garnered more than 250 stories in the last two years in local, state and national media.
Daniali is actively involved in NCMPR. She has attended every regional and national conference since her start at Edmonds, presented at the 2018 national conference, was published in Counsel, and participated in both Medallion and Paragon judging. She currently serves on the District 7 Executive Council.
Dr. Amit B. Singh, president of Edmonds Community College, has this to say about her, "Ms. Daniali is proactive not only in her pursuit of continuous improvement through her own professional development, but also in exploring possible avenues of improvement for both internal and external communication at the college. She is uniquely skilled and exemplifies the qualities honored by the Rising Star Award."
---