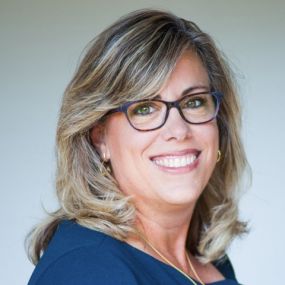 2023 National Rising Star
Melissa Albright
Vice President of Marketing, Public Relations and Enrollment Man
County College of Morris
Randolph, NJ
After just two years in higher ed marketing leadership, Melissa Albright is using her relationship-building skills to help 25-year industry veterans grow in their ability at County College of Morris in New Jersey.
Albright is NCMPR's 2023 national Rising Star. She has years of experience in the corporate world and as a middle school teacher, and the lessons from those items on her résumé help her in her role as vice president of marketing, public relations and enrollment management. But it's perhaps her time teaching special education that helps her most in her role, she says, both in her vice president duties and as an employee celebrating the success of community college students. Her seven years teaching special ed taught her a level of compassion and understanding not to put ceilings on any students she worked with, she says.
Plus, she viewed those students almost as clients: She had something to deliver to them, and it wasn't transactional – it was about relationship building.
"I ensured my students were seen, heard and valued," she says. "The same thing happens with my employees."
One way she achieves this is to encourage employees' learning, even when they are longtime veterans of community college marketing. Albright speaks of one employee who has been with the college for a quarter century. She recently told Albright, "I've been doing my job for 25 years and doing it the same way for 25 years. I thought I was pretty good. Then you came along, and you have invested in me. You've taught me how to collaborate in a new way, and now I feel like I'm doing my best work."
It's exactly what Albright says she learned from teaching and in corporate situations: In the end, you want to make a difference in others' lives.
Albright's path to community college marketing came out of the pandemic. In 2020, she was the marketing and sales manager at Sight & Sound Theatres in Pennsylvania. In her role, Albright made connections with area two- and four-year colleges, recruiting students to get involved on stage, behind the scenes and with customer service.
During this recruitment, the president at County College of Morris mentioned he was looking for an executive director of marketing. She never planned to apply – until most of the theater employees were furloughed during the COVID-19 lockdown. She waited to see the job listing and send in her application.
Coming from a background that's not in higher education can be challenging, Albright says, but those skills at developing relationships with people who will be her ally and support her when she needs help crosses industries and job titles.
"It's not about hierarchy. It's not about 'at the top of the food chain,'" she says. "It's more about, I'm really here to bring out the best of all of you to the benefit of our students. We're all trying to get to a college that is better on behalf of the students."
---