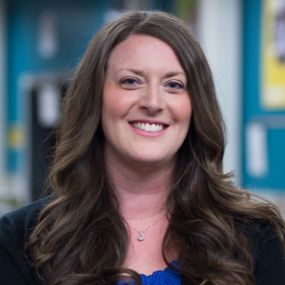 2021 District 5 Rising Star
Marie Pauley Swaja
Marketing and Communications Manager
Anoka-Ramsey Community College
Coon Rapids, MN
Marie Swaja is an experienced marketing communications professional with more than 13 years of experience in the field. She joined the marketing and communications team at Anoka Technical College and Anoka-Ramsey Community College in November 2018 and has led the colleges' social media and earned media strategy, notably advancing the team's priorities of brand awareness, recruitment and retention.
Dedicated to impactful communications, Swaja has been instrumental in shifting the colleges toward a more human-centered storytelling, focused on engagement across all channels. She is a champion of using data and strategic planning to tell the most resonant story through the right media and channels at the right time, making every project as successful as possible.
After joining the team, Swaja performed a social media audit and developed a strategy for both colleges and brands. She shifted from a content-focused strategy to one centered on storytelling, and she led cross-populating content streams across various platforms that include 10 social accounts and two separate college websites. In the midst of these social media changes, Swaja also launched a digital and printed alumni and community newsletter for Anoka Technical College. Her first issue earned a Paragon Award.
Swaja is a compassionate, reassuring leader. She is a good listener and can link goals with a well-researched audience understanding.
"Along with increasing the effectiveness of our marketing team by confidently leading conversations and projects that align marketing brand and recognition with our dual priorities of increased awareness and enrollment, Marie brings a vigorous work ethic, inspired ideas, and new insights and approaches to both new and perineal goals," writes Mary Jacobson, chief marketing & communications officer at Anoka Technical College and Anoka-Ramsey Community College, in Swaja's nomination letter.