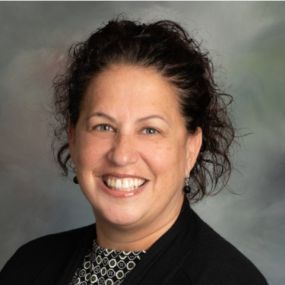 2019 District 1 Communicator
Jan Kirsten
Executive Director of College Relations
Ocean County College
Toms River, NJ
As the executive director of college relations at Ocean County College (OCC) in New Jersey, Jan Kirsten is responsible for marketing programs, brand management, special events, grants and alumni.
Kirsten thrives on challenges, especially those that expand the college's strategic initiatives. She responds to responsibilities and undertakings with creativity, drive and leadership. Thanks to Kirsten, OCC has seen increased visibility in a variety of areas, including its planetarium, theater shows and children's camp. She also oversaw the college's recent website update, facilitating focus groups with staff and students that were pivotal in learning about what changes were needed and wanted by various stakeholders. As a result, the website has seen more traffic and better bounce rates.
Due to Kirsten's work with the college's third party marketing vendor, student matriculation at OCC has increased from barely over 1% to nearly 12.5%. She is also responsible for helping the college as a whole understand the impact of marketing. She has created processes and procedures, such as intake forms and email systems, that streamlined marketing's workload and allowed for accountability within the college.
Kirsten currently serves on multiple boards, including the United Way of Monmouth and Ocean Counties and the Greater Toms River Chamber of Commerce. She also served two years as president of the Howell Women's Club. She is a member of NCMPR's executive council in District 1 and presented at an NCMPR conference.
In addition to management and marketing in higher education and the corporate realm, Kirsten's areas of expertise include conference and event planning, media relations and publicity. Prior to joining OCC in 2002, she worked in strategic marketing and promotional initiatives at Benetton Sportsystems Inc.'s Prince Division. Kirsten has a bachelor's degree from Georgian Court University and a master's from Fairleigh Dickinson University, both in in New Jersey.