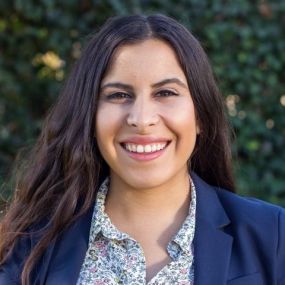 2021 District 6 Rising Star
Miranda Bates
Communications Specialist
North Orange Continuing Education
Anaheim, CA
Miranda Bates is a colleague who takes initiative, helps her peers and brings precise editing skills to North Orange Continuing Education (NOCE).
She was instrumental in advancing NOCE's brand and style guide, helping her coworkers achieve institutional consistency. She coaches others about correct style and branding rules, assuring her peers know that hers should be the final eyes before hitting print.
She's also improved NOCE's newsletter, taking it to the next level in terms of branding, creativity, features and succinct writing. She has shown other departments how to create newsletter templates with accurate branding, allowing them to tailor the finished products to their departmental needs. This allows communication to be shared with students, prospective students and employees in a coordinated, branded manner. Her work on NOCE's newsletter even earned her Medallions and Paragon awards in 2020.
When Bates works with others, she is friendly and inviting, which encourages them to share new program information or accomplishments to include in marketing publications, reports, social media and more. She is an excellent writer and editor who contributes her talents as one of two institutional writers for the Western Association of Schools and Colleges Accreditation Self-Study.
When NOCE's director of campus communications, Jennifer Perez, had to take three months off due to a family emergency, Bates took on several of her tasks, including assisting with the digital marketing plan; writing reports, scripts and messages for the president; developing the annual report; and serving on a variety of committees. Perez had faith in Bates' problem-solving, decision-making and judgement skills.
"She is excellent at keeping things simple, streamlined, organized and efficient," says Perez, Bates' nominator. "She is always open to new ideas and really good at keeping the team on track in order to complete the goals."