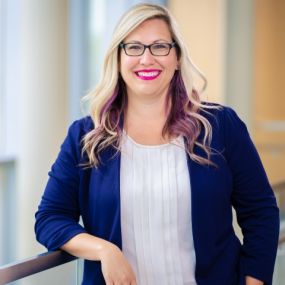 2021 District 3 Rising Star
Elissa Kojzarek
Communications and Social Media Manager
Elgin Community College
Elgin, IL
At Elgin Community College (ECC) in Illinois, Elissa Kojzarek is known for her social media work – but she does much more than that. She started at ECC in fall 2019, bringing with her more than 10 years of non-profit experience.
Kojzarek is often visible on campus, wandering the halls or popping into classrooms or offices to find out what's going on, and then sharing what she finds on social media. Her passion for promoting student stories and increasing local awareness of what ECC offers has led to an increase in followers and engagement across all ECC social media channels– even in the midst of a global pandemic. Campaigns like the sports-themed Get in the Game series, which humanized faculty and eased the anxiety of online learning, illustrate Kojzarek's ability to tell ECC's story. Similar to professional baseball cards, "stats" like years teaching and degrees earned were featured to introduce faculty to students in a fun, non-traditional way. Posts linked to registration pages drove traffic and impacted enrollment. Eye-catching graphics and creative photography generated conversations and attention, even from another regional community college that launched a similar campaign and gave a shout-out to ECC for the inspiration.
In addition to managing all of the college's social media channels, Kojzarek handles internal communications; creates content for the weekly employee newsletter, Spartan Review; and manages ECC's digital communications, including electronic signage and the college's online newsroom.
Kojzarek is known for always being ready to help out where needed. She worked alongside the chief marketing and communications officer and volunteered to do additional work during a time of turnover. This included stepping into the role of a previous supervisor after a resignation.
"She brings harmony and has contributed to the overall positive morale in the marketing and communications department," writes Rita Elliott, ECC's senior director of communications, in Kojzarek's nomination. "She makes her job fun and puts everyone at ease who works with her."