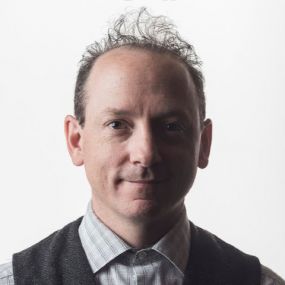 2019 District 3 Rising Star
Bret Figura
Graphic Designer
Moraine Valley Community College
Palos Hills, IL
Bret Figura has been a graphic designer at Moraine Valley Community College in Palos Hills, Illinois, for nearly five years. Considered to be a designer who understands the importance of student and community engagement, he represents MVCC well beyond the walls of his department and the campus.
Prior to joining Moraine Valley Community College, Figura worked in the print and publishing industry for 15 years as art director and designer, creating both newspapers and magazines. Figura brings strategies from his previous career in publishing to elevate the college's brand through the creation of modern mastheads, new layouts and greater continuity among publications. He also shows care and concern for sustainability. At his urging, Moraine Valley reduced print quantities and produced more evergreen documents.
Under Figura's leadership and guidance, the college completed a multi-year revision of all its major mailings this summer. Not only did he create a more polished and uniform suite of materials, but his efforts saved the college $34,000 annually and provided students and the community with more functional pieces.
Not one to shy away from big projects, Figura also produced and orchestrated the publication of the college's 50th anniversary coffee table book. His efforts beautifully showcased the history of Moraine Valley and its students, alumni and employees.
In combination with his top-notch design skills, Figura keeps the end user in mind. He considers the target market and how someone would interact with a publication. He's resized pieces to make sure they fit properly in a backpack or a mailbox and has found ways to make otherwise copy-heavy documents easier to consume by using infographics, leveraging white space and challenging editors to edit further.
"Bret has brought a new, creative and forward-thinking perspective to our marketing and communications team, the college at-large and the community we serve," says Clare Briner, director of marketing and communication at Moraine Valley. "Bret concerns himself with the whole lifecycle of a project and thinks critically about the processes and procedures that influence our work."