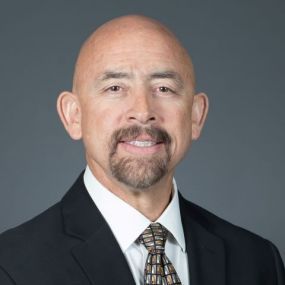 2022 National Pacesetter
Joe Garcia
Chancellor
Colorado Community College System
Denver, CO
When Joe Garcia served as Colorado's lieutenant governor from 2011 to 2016, his decade of presidency at institutes of higher education helped in a lot of ways. One of the most important was how his community college experience informed his ability to tell a personal story. He could share how higher education transformed his life or other students' lives, and those personal stories resonate with people more than discussing the needs of higher education in general.
Garcia, the Colorado Community College System (CCCS) chancellor, is NCMPR's 2022 Pacesetter of the Year Award, which honors a community college chief executive officer who has demonstrated special leadership and support in college communication and marketing.
"I'd tell my own story of coming from a family with a mother who didn't get a chance to go to college. She got married and starting having kids at a young age," traveling the country and the world with Garcia's father, who was in the army, he says. "She always made it clear that books and education were important to her, and they should be important to us."
At 56, Garcia's mother earned her associate degree from a community college, and at 64, her bachelor's from a university. Garcia and his siblings learned from her example, and each of the five Garcia siblings earned college degrees and graduate degrees in areas including medicine, law and engineering.
"The message there is simple: that it's never too late. It always matters," he says. "If you can tell people it matters and later demonstrate that you're going to follow through what you've been preaching, as my mom did, it has tremendous power."
Equity is a priority for Garcia, and more than half of CCCS colleges are designated Hispanic Serving Institutions. Under his leadership, the Foundation for Colorado Community Colleges received a $1 million investment from Kaiser Permanente to create an equity scholarship fund. At the outset of the May 2020 protests spurred by the murder of George Floyd, Garcia penned a message to underline the importance of the protests. He reaffirmed the college's commitment to students and the communities served across Colorado.
"We know we can do better and, as educators, we have an obligation to lead the change," he wrote in the message. "As the state's largest provider of higher education, serving nearly half of all students of color in Colorado, we commit to doing our part to disrupt and eradicate injustice, racism, and systems of oppression in our institutions and in our communities."
Garcia prioritizes external messaging and public relations, offering his voice to various CCCS campaigns or projects. For example, before his first official day as chancellor, Garcia introduced himself to the system's 20,000+ staff, faculty and instructors across the state.
"This short video was a perfect introduction for employees and college communities to see, hear, and get a sense of who Joe Garcia is prior to more official messaging," writes Fiona Lytle, chief communications officer and legislative liaison for CCCS, in Garcia's nomination letter. "The video also served to establish trust and show that he is an approachable leader who cares deeply about the role of community colleges."
The Pacesetter of the Year Award honors a community college chief executive officer who has demonstrated special leadership and support in college communication and marketing. It is awarded annually in each of NCMPR's seven districts, and district recipients automatically qualify to compete for the national award.
---