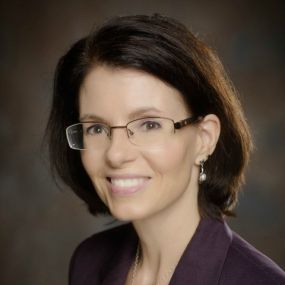 2019 National Pacesetter
Dr. Natalie Harder
Chancellor
South Louisiana Community College
Lafayette, LA
Since assuming the top post at South Louisiana Community College (SLCC) in 2012, Dr. Natalie Harder has been an architect of change for the institution and has become recognized as a visionary leader for education.
Described as "the right person at the right time," Dr. Harder led SLCC through a dramatic shift in both culture and mission shortly after being hired. The change included a large-scale merger of SLCC and technical colleges in the region, each with distinct cultures, systems, programs and students. It all came at a time when Louisiana was experiencing some of the worst education budget cuts in its history.
Despite the challenges, Dr. Harder remained focused on the end goal. What emerged is a comprehensive community college focused on student services, outcomes and success. Under her leadership, the footprint of the college expanded, graduation rates increased, enrollment grew and the college's profile was significantly enhanced. Today, Dr. Harder oversees one of the leading institutions in the Louisiana education system.
Beyond campus boundaries, Dr. Harder understands SLCC's impact on economic growth in its service area. She's responded to business and industry needs with innovative ideas and solutions. When needed, she phased out ineffective programs in favor of courses and majors that resulted in higher-wage, high-demand occupations. With a focus on building relationships, she has played a significant role in the passage of key legislation to propel local industry and the college forward. Julie Simon-Dronet, vice president for COX Communications-Lafayette, shares, "Dr. Harder has a gift of engaging the business community and bringing people together in support of education."
Dr. Harder's notable achievements include:
She revitalized seven campuses, acquired two additional campuses, increased graduation rates three-fold, and increased enrollment by 12 percent in 2016. She also expanded the marketing and communication department, positioning SLCC as a regional leader in education.

Harder enhanced relationships with local government, business leaders and economic partners while increasing awareness and financial support for the college. In five years, SLCC raised a total of $10 million and $32 million in new facilities and quadrupled the foundation's endowment portfolio.

She adopted "Complete College America: 15-to-Finish Game Changer," which encourages students to take 15 credit hours per semester to finish on time. SLCC increased the number of first-time, degree-seeking students from one-fifth of total enrollment to one-half.

In partnership with local school districts, Dr. Harder supported "Early College Academy" models on two campuses, offering students three career certificate options. Additionally, she implemented a "College to Church" initiative, providing an underserved population with an entry point to postsecondary education while receiving faith-based support.
In addition to her ability to bring people together, Dr. Harder is a respected leader among her peers. In 2015, she was elected to the board of trustees for the Southern Association on Colleges and Schools Commission on Colleges, the first Louisiana community college representative to serve in this capacity. That same year, Dr. Harder became an AACC board member and served as chair of its Public Policy and Governmental Relations Committee.
A recognized educational leader with endless responsibilities, Dr. Harder never forgets her most important commitment — students. She continues to teach as an adjunct instructor for both SLCC and University of Louisiana at Lafayette.
Dr. Monty Sullivan, president of the Louisiana Community and Technical College System, says of Dr. Harder, "Her vision, leadership, sustained performance and support of college communications have made her a champion for education and workforce development in our state and the nation."
---