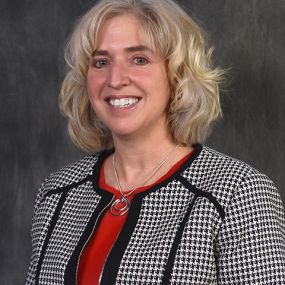 2021 District 5 Pacesetter
Dr. Leah Barrett
President
Northeast Community College
Norfolk, NE
In its 91-year history, Northeast Community College welcomed its first woman president to leadership in 2018: Dr. Leah Barrett. During her tenure, she has shown that she understands and respects the college's role in supporting student success and community vitality, embracing her position to engage the citizens of northeast and north central Nebraska.
For of Dr. Barrett's first duties as president, she studied Northeast's culture and its core. She used an all-campus survey, conducted by an outside agency, to learn more about Northeast, its employees and their impact on Northeast's mission.
"An environment of trust is not something that occurs overnight," she wrote in an all-college communication. "It takes time and attention related to transparency, employee engagement, and authenticity in our communication and relationships."
She used that survey's findings to inform the college's new strategic plan, enVISION, which will define Northeast's vision, articulate its values, establish its priorities and help each department identify clear goals.
Dr. Barrett excels not only in strategic planning but in crisis leadership. During a global pandemic, she was a clear communicator, offering safety and support. 2020 wrapped up for Northeast in a most notable way: In December 2020, the college received a $15 million donation, the largest single donor contribution in Northeast's history. Dr. Barrett says the college was among the recipients of this donation due in part to its response to the pandemic. The donor wanted to "empower leaders who are well-positioned to accelerate progress," she says.
Dr. Barrett understands the importance of media relations, regularly visiting with area media to tell Northeast's story, and of the marketing team.
"Dr. Barrett is the first president I've worked with at Northeast that has included (me) and my team (in) strategic discussions," writes Crystal M. Hollmann, Northeast's marketing director, in Dr. Barrett's nomination. "We are often times referred to as the 'knowers of all.' It's a heavy lift sometimes, and Dr. Barrett empowers us to be the key resource of the college."