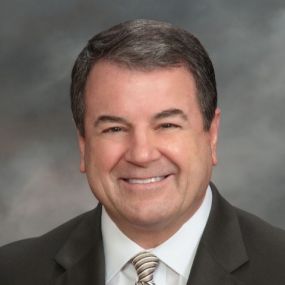 2019 District 5 Pacesetter
Dr. Michael Ash
President
Southeastern Community College (Iowa)
West Burlington, IA
Since Dr. Michael Ash's arrival in 2014, Southeastern Community College (SCC) in Iowa has undergone an about-face in nearly every aspect, thanks in large part to Dr. Ash's understanding of communication's role in sharing a vision.
With the empty moving van barely out of his driveway, Dr. Ash embarked on a listening tour to learn how SCC could improve. From that came Building the Dream, the college's first comprehensive campus expansion project in 25 years, which involved new facilities for its health, industrial technology and science programs.
Dr. Ash launched a $27 million capital campaign, which some on the planning team thought was an unattainable sum. The community rallied, buoyed in part by a $3.5 million donation, the single largest gift to any community college in Iowa. Not only did SCC reach its goal, but it was able to provide another $4 million in new scholarships.
With state dollars increasingly unreliable, Dr. Ash has developed new funding streams and enrollment opportunities. He formalized SCC's international recruiting program, added athletic programs and worked with area K12's to bolster college and career programming. To house all the new students, he partnered with local developers to build a $5 million four-story residence hall.
When Dr. Ash first took an inventory of the college's critical needs, he quickly recognized he would need a strong team of communicators to tell the SCC story. By adding one new hire and restructuring existing staff, SCC went from an understaffed department of one to a small but mighty team of three.
His appreciation of the importance of marketing extends into the college's strategic planning and advancement initiatives, as well. Whenever there's a project with broad impact, marketing has an early seat at the table.
Dr. Ash's mantra has always been, "It's about the students." He has invested heavily in student support services, including a new academic achievement center, early intervention systems and student advocates.
A project close to his heart is the President's Leadership Academy. Every year, he and his wife teach a select group of students about volunteerism and civic engagement. Students learn life-long leadership skills by witnessing firsthand the positive impact they can have in their communities.
Together with his wife, Dr. Ash also brought the Bridges Out of Poverty program to the community. This effort unites local government, K-12, workforce development and charitable organizations to intermingle their support networks, build lines of communication and improve efficiencies to better help those in need.