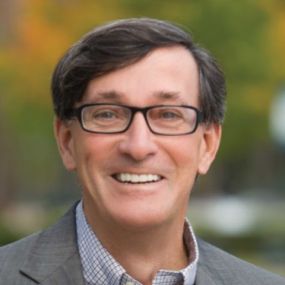 2019 District 4 Pacesetter
Dr. Robin Myers
Chancellor
Arkansas State University Mountain Home
Mountain Home, AR
Dr. Robin Myers is one of the most respected chancellors in the state of Arkansas. Under his leadership, Arkansas State University-Mountain Home (ASUMH) has been recognized nationally as the top community college in the nation by Wallet Hub and in the state by MSN Money.
When Dr. Myers was named chancellor in 2012, he was only the second president in the college's history. At that time, the college was positioned as a transfer-degree institution and had little to offer in the way of technical degrees. Dr. Myers was instrumental in the establishment of the ASUMH Technical Center, which now offers automotive services, machining, mechatronics (robotics), HVAC and welding. The center has expanded and now includes classes that are workforce-specific, including a new fiberglass boat building program that was created in response to local manufacturers Ranger Boats, Bass Cat and Vexus. In addition, a new construction trades program was introduced this fall.
The community of Mountain Home, Arkansas, and the Twin Lakes area has embraced Dr. Myers with a sincere love for his dedication to community service. Among other local honors, he has been elected president of the Mountain Home Area Chamber of Commerce. In response, the business community supported the technical center through funding and grants.
Thanks to Dr. Myers' direction, ASUMH has risen to the top in both graduation and completion rates. He instituted a solid strategic planning process for the institution that links budget and planning with assessment. In 2018, he responded to a request from the marketing department to move recruiting from admissions to marketing, and the results of the transformation for the institution are just beginning to show. The college had 2% enrollment increase this summer when many other colleges in Arkansas saw enrollment decreases.
Dr. Myers' background is in marketing, which has been made for a wonderful relationship with the college's marketing team.
"He has a sincere support of all things marketing-related," says Christy Keirn, ASUMH's associate vice chancellor for marketing and community relations and Dr. Myers' nominator. "He gets it. He supports it. He has attended NCMPR meetings and supports the staff attending meetings for professional development, both at the regional and national level."