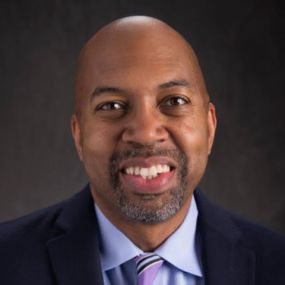 2019 District 3 Pacesetter
Dr. Bill Pink
President
Grand Rapids Community College
Grand Rapids, MI
Dr. Bill Pink became the 10th president of Grand Rapids Community College (GRCC) in May 2017. With more than 25 years as an educator and leader at the national and local level, Dr. Pink prioritizes building on GRCC's strong history of service to all students, guiding the college to be relevant and responsive to its community.
Since being named president, Dr. Pink has attracted statewide recognition and national coverage for efforts to connect with inner-city students, expanded partnerships to boost career skills and increased regional support for scholarships and facilities. After GRCC dramatically expanded dual enrollment and early/middle college opportunities, enrollment of Grand Rapids public school graduates increased 31%.
Additionally, GRCC was one of 10 community colleges selected by the foundation of the rock band Metallica for a grant to expand welding programs for nontraditional students. After launching a Broader Vision capital campaign, $13 million has been raised to increase scholarship and renovate facilities.
Dr. Pink, an Abilene, Texas, native, has taught and coached in Oklahoma, Nebraska and Oregon. He was inducted into the York College Athletic Hall of Fame in 2016 for his performance as a student athlete. Dr. Pink is also involved in governance and policy development at regional and national levels. He was elected to the board of trustees for the Higher Learning Commission, is the accreditor for colleges and universities across 19 states and serves on the Community College Advisory Panel for the College Board. He was appointed by Gov. Gretchen Whitmer to the Michigan Economic Development Corporation board. In west Michigan, he serves on the boards of Spectrum Health Hospitals Group, the United Way Heart of West Michigan, West Michigan Works!, the Grand Rapids Economic Club and The Right Place.
"After being named president, Bill Pink said he never again wants to hear someone say 'GRCC is West Michigan's best-kept secret,'" said Dave Murray, communications director at GRCC. "He challenged the communications team to be loud and proud in raising awareness of GRCC programs and the college's impact on the region. He wants to see people take advantage of opportunities to transform their lives."