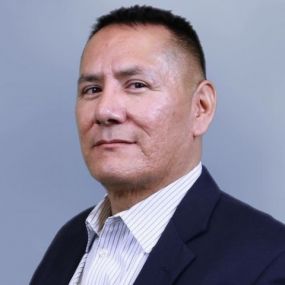 2020 District 6 Communicator
George Joe
Director of Marketing and Communications
Diné College
Tsaile, AZ
Thanks to George Joe's focus on culturally appropriate messaging, Diné College's successful marketing and recruitment strategies have led to an increase in enrollment for the college that serves Navajo reservation communities.

Beyond enrollment, Joe has created strategies to use earned media to improve the community's perception of the college. A recent survey revealed that the public had only recently seen significant information about the college, and the college website and Facebook page have seen a large increase in visits and follows. Under Joe's leadership, the college has also raised its profile over the past year with strategically placed stories in the national and regional media.

Diné College is a small tribal college with a limited budget and staff, so it is essential that the marketing and communications director does not lose track of long-term plans. Joe has risen to that challenge and manages long-term planning, develops market research and reports, and oversees a comprehensive branding initiative. Further, the department is now a fully functioning professional marketing office with targeted institutional goals, thanks to his leadership.

Joe's thoughtful organizational planning has helped Diné College navigate the tough impacts of the COVID-19 pandemic, particularly in the area of enrollment. He oversaw a multifaceted and targeted marketing plan that led to larger-than-expected enrollment in fall 2020.

In addition to ensuring that the college's marketing and communications goals are being met, Joe has shown leadership in making tough departmental decisions to meet the long-term goals of the college. He has also helped Diné College become the first tribal college to participate in the American Marketing Association's Higher Education Consortium.