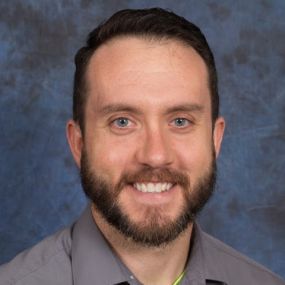 2019 District 5 Communicator
Brandon Steinert
Director of Public Relations
Barton Community College
Great Bend, KS
Brandon Steinert started at Barton Community College in Kansas in 2011. When he was hired, his office was restructured and downsized. Over the next eight years, Steinert successfully lobbied his president and board of trustees to create new positions so his tiny department could take full advantage of social media, video and web.
He did this not once, but twice.
Steinert put his expanded team to good use, helping Barton grow its online enrollment by 20% per year for several years. A talented photographer, Steinert regularly uses his camera eye to boost the quality of visuals in Barton's publications as well.
In 2017, Steinert was selected to be a part of the Barton Leadership Institute, a college initiative that develops employees who demonstrate leadership potential. He represented his colleagues on a statewide committee of leaders from all community colleges in Kansas. He is a member of the Great Bend Chamber of Commerce Board of Directors, regularly volunteers for a host of community events and is always on the lookout for opportunities for the college to partner with business and community.
Steinert is a forward thinker intent on making positive change in the organization. When his team members noticed a dip in college employee morale and awareness of new hires, they developed NEW@Barton. Now every new employee is featured in a special write-up that includes a personalized bio, fun facts and a photo.
One of Steinert's strongest skills is his ability to secure the resources and training his team needs to be successful at their jobs.
"He encouraged me to go to my first NCMPR conference," says Tana Cooper, Steinert's nominator and Barton's director of admissions. "I felt a little uncomfortable being the only non-marketing person in the crowd at first. However, we heard a common theme about how schools wished they communicated well with their admissions department."
Cooper and Steinert would speak up in these sessions and share how they made it work at Barton.
"He saw the value in an admissions office/public relations partnership," Cooper says.