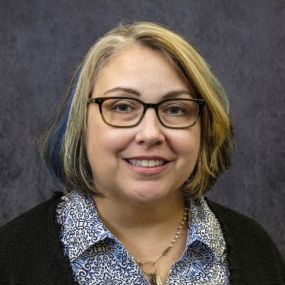 2022 District 1 Communicator
Laura Powers Batchelor
Executive Director of Marketing and College Relations
Atlantic Cape Community College
Mays Landing, NJ
For the last few years, Laura Batchelor has had a mission at Atlantic Cape Community College: branding. It needed a refresh – especially in the wake of the COVID-19 pandemic. This refresh included it all: an overhaul of taglines, new logos, and adjusting the whole look of Atlantic Cape's marketing, which now focuses on featuring its students in advertising. It also involved a social media revamp, including a new TikTok account for the college and brainstorming fun and creative post ideas with her team.
Atlantic Cape has seen the results of Batchelor's efforts: For one, brand recognition and community support of the college is on the rise. Emerging local industries like aviation, drones and wind look to Atlantic Cape to train their future employees and seek out partnerships with the college. Plus, across all three campuses, across all departments, enrollment has recouped significantly from COVID-19. Batchelor's leadership success is also visible in college events. At the 2022 fundraising gala, Atlantic Cape raised the second most funds since its inception 39 years prior, and the annual golf tournament scholarship fundraiser raised a record amount, both due in large part to Batchelor's efforts.
Batchelor is also a strong supporter of her staff, encouraging them to try new things and often trying them herself first.
"She wants us to be the best we can, so she is always sharing articles and videos, supporting our creativity, and will always listen to new ideas," writes Erin Mercer, Atlantic Cape's social media manager, in Batchelor's nomination letter.
Prior to Atlantic Cape, Batchelor spent nearly a decade marketing Atlantic City casinos and five years at Adventure Aquarium in Camden.