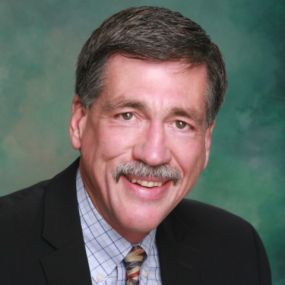 2019 District 7 Pacesetter
Dr. Greg Hamann
President
Linn-Benton Community College
Albany, OR
Known by his staff and colleagues an exceptionally thoughtful leader, Dr. Greg Hamann, president at Linn-Benton Community College (LBCC), inspires community collaboration and continually charges employees to challenge stereotypes and traditional systems. As a result, LBCC has gained a reputation as being an innovator, both locally and nationally.
Thanks to Dr. Hamann's work on events like the Freedom of Expression discussion, LBCC is seen as a leader in facilitating civil discourse. The college is the only community college in the nation invited to be a part of the Heterodox Academy, a non-partisan collaborative of more than 2,500 professors, administrators and graduate students committed to enhancing the quality and impact of research and education. LBCC joins Purdue University and other prestigious universities in the academy.
Dr. Hamann also launched an affordability initiative that provides emergency funds to marginalized students and forged new educational opportunities for individuals living with a criminal history. He is outspoken that education is about the whole person and should be about more than getting a job.
"A comprehensive community college education is about more than just making a living," he has said. "It is about the quality and character of life itself. Equity is an outcome. It's not a value, a strategy, a program or an initiative."
Dr. Hamann's leadership in supporting student success was recognized when LBCC was selected among 30 community colleges nationwide to participate in the American Association of Community Colleges' (AACC) Pathways Initiative, a collaboration by national higher education leaders and organizations to improve student completion rates. Since LBCC's adoption, many other colleges have turned to LBCC for help in starting their own initiatives.
Locally and nationally, Dr. Hamann is a powerful voice for the value of community. He serves as a governor-appointed member of Oregon's Quality Education Commission and on the governor's Reentry Council. Nationally, he holds positions on the AACC's board of directors, a President's Advisory Council member to the AACC trustees, and a steering committee member for the 21st Century Initiative Implementation Team.
After 10 years as one of the longest-serving community college presidents in Oregon, Dr. Hamann is retiring from LBCC at the end of this academic year. He will leave a tremendous legacy of positioning and advancing LBCC in ways that have inspired other community colleges around the state and nation.