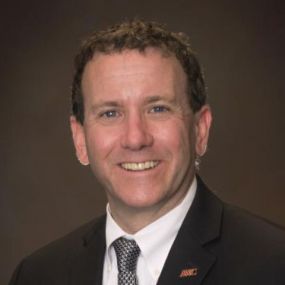 2019 District 6 Pacesetter
Dr. Daniel Corr
President
Arizona Western College
Yuma, AZ
Dr. Corr's signature phrase, "It's a great day to be a Matador," reveals his enthusiasm for Arizona Western College (AWC) and its students. With a focus on facilitating student success, increasing access to higher education and fostering a climate of innovation, collaboration and stewardship, Dr. Corr is making positive changes for AWC students and the communities they serve.
Dr. Corr became the ninth president of Arizona Western College in 2016 and brings over 25 years of higher education experience to his position. He began his career in his home state of Illinois, serving in instruction and administrative positions at three community colleges. Upon moving to Arizona, he served as Scottsdale Community College's vice president of academic and student affairs for nine years before becoming AWC's president.
Not long into his new role, Dr. Corr launched an aggressive strategic plan to double the baccalaureate rate in the district by 2035. Through his leadership and partnerships with state universities, AWC leads the state's transfer rate to four-year colleges and is the only college in Arizona that offers face-to-face courses and degree programs from all three state universities.
Dr. Corr created a college-going culture through early college tuition programs that offer a nearly 80% discount for high school students taking college classes. He also pioneered and piloted a La Paz County promise, which is a last-dollar scholarship to refund out-of-pocket tuition expenses for high school graduates who enroll full time and complete a degree in five semesters.
Dr. Corr recognizes the importance of a thriving community and remains committed to local business needs. He serves on the Yuma County Workforce Development Board, the Yuma County Intergovernmental Public Transportation Authority Board of Directors and numerous other local boards. Nationally, Dr. Corr serves as an American Association of Community Colleges commissioner and a Higher Learning Commission peer reviewer. In May 2017, Arizona Gov. Ducey appointed Dr. Corr to serve on the Arizona State Board of Education.
Dr. Corr's greatest passion remains AWC's students and their success. A first-generation college student, he helped launch a First Generation campaign in 2017 to highlight the nearly 65% of AWC students who were first in their families to attend college.
Referred to as a transformational leader, Dr. Corr has a focus on transparency, which includes clear and concise communication. He regularly speaks at community events; shares his observations of students, faculty and partners through Twitter; and seeks opportunities to connect with community members.