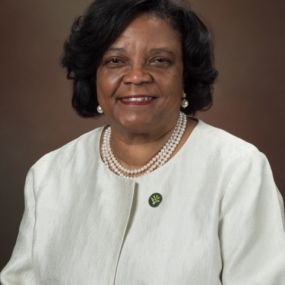 2021 District 3 Pacesetter
Dr. Sylvia M. Jenkins
President
Moraine Valley Community College
Palos Hills, IL
With more than 40 years in higher education, Dr. Sylvia M. Jenkins has a wealth of experience, knowledge and advice to share. She is well-respected among her peers and often represents Moraine Valley at functions. She was invited to the White House College Opportunity Summit in 2014, and this summer, she was one of the first higher ed presidents to sign onto the COVID-19 College Vaccine Challenge hosted by the White House. The campaign even highlighted the college's vaccine efforts were highlighted during a national meeting.
Located in the southwest suburbs of Chicago, Moraine Valley has a varied audience demographic. The college serves 26 communities, with diverse populations including Middle Eastern, Eastern European, Black and Hispanic populations. Dr. Jenkins often can be heard saying, "Our doors are open for everyone." That message creates a welcoming environment for all students and recognizes the diverse populations we serve. As a result, diversity, equity and inclusion have become Dr. Jenkins' top initiatives, and two years ago, she added them to the college's Core Values. Under her direction, the college has
Signed onto the Illinois Equity Attainment initiative, a statewide partnership committed to eliminating racial and socioeconomic achievement gaps by 2025 and aggressively prioritizing increasing completion rates on campuses.
Created an American Sign Language (ASL) degree and certificate program and allocated space on campus for an ASL lab.
Supported diversity efforts including the Black Minds Empowered workshop, Diversity Dialogue and Diversity committee on campus.
Promoted the use of preferred pronouns.
She also understands the importance of communications, supporting the college's office in myriad ways.
"Dr. Jenkins understands the value marketing and public relations plays in creating a positive learning environment for our students and gives the department the means to be creative and fun," writes Jessica Crotty, assistant director of communication at Moraine Valley Community, in Dr. Jenkins' nomination letter.