2019 National Conference
March 26, 2019
Texas Hill Country-San Antonio
San Antonio, TX
REGISTRATION
Hitch Up the BRAND Wagon!
For NCMPR's 2019 national conference, it's all about branding (and we don't mean cattle). We're heading to Texas Hill Country -- sprinkled with rolling hills, wildflowers and breathtaking vistas -- to inspire BIG IDEAS for branding two-year community and technical colleges.
Whether you prefer outdoor recreation or big-city culture, you'll find something to love about Texas Hill Country. This part of the Lone Star State is known for its rolling hills, scenic rivers and lakes, and unique small towns that have their own stories to tell. Perched on its southern edge is San Antonio, a major city in south-central Texas with a rich colonial heritage. It's home to the Alamo, an 18th-century Spanish mission preserved as a museum and the site of an infamous 1836 battle for Texan independence from Mexico. It's also known for its famed River Walk, a miles-long pedestrian promenade lined with cafés and shops.
Conference headquarters is the Hyatt Regency Hill Country. Nestled on 300 acres of historic ranch land and located just 20 minutes from the San Antonio airport and River Walk, it offers a unique blend of countryside relaxation, casual elegance and Texas-sized hospitality.
Conference Fees
Registration
$625 Early Bird (paid on or before Feb. 22)
$675 Regular (paid after Feb. 22)
Pre-Conference Intensives
$90 Early Bird (paid on or before Feb. 22)
$100 Regular (paid after Feb. 22)
Guest Tickets
$100 Paragon Awards (for GUESTS only)
Includes guest ticket to reception, dinner and awards presentation. Note! The Paragons are included in your regular conference registration fee.
You must be a member of NCMPR before registering. Learn more about membership HERE.
Refund Policy
Cancellation and refund requests must be made in writing on or before Feb. 22. NCMPR will issue a refund of the conference fee, minus a $150 administrative fee. Email requests to dhalsey@ncmpr.org.
No refunds will be granted for requests made after the deadline.
For special circumstances (family or medical emergencies) that arise after the deadline, NCMPR will issue a full refund upon receipt of proper documentation.
Substitutions are gladly accepted.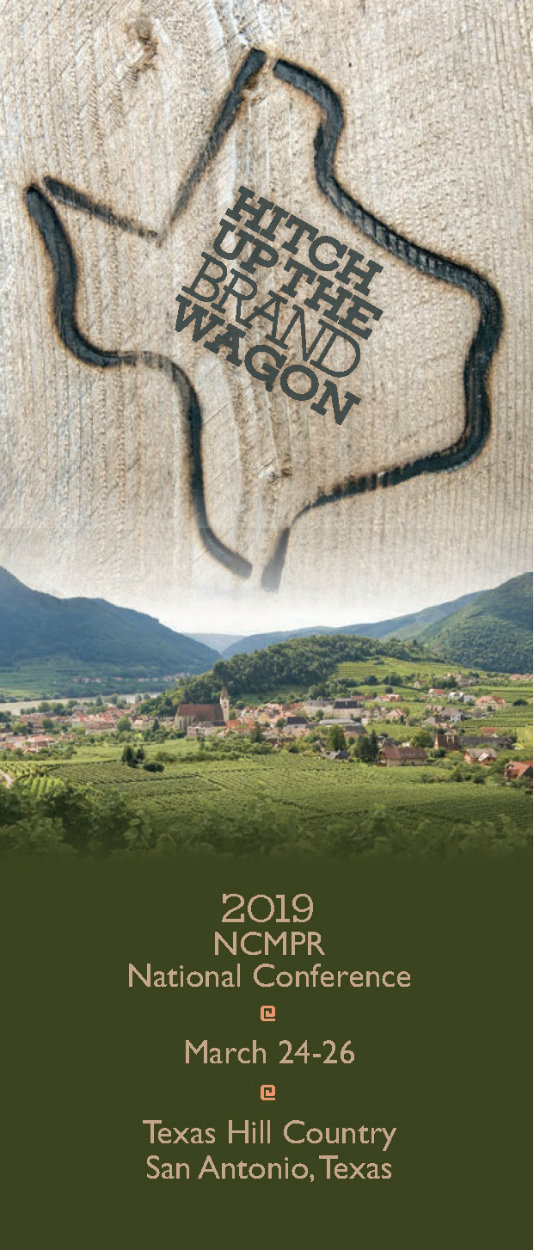 Hotel Accommodations
Conference Headquarters
Hyatt Regency Hill Country
9800 Hyatt Resort Drive
San Antonio, TX 78251
(210) 647-1234
NCMPR's room block at the Hyatt Regency is sold out. NCMPR has blocked additional rooms at the Courtyard San Antonio Sea World/Westover Hills.
Overflow Hotel
Courtyard by Marriott Seaworld/Westover Hills
11605 State Highway 151
San Antonio, TX 78251
(210) 509-3700
Room Rate (Overflow)
$159 a night (standard king or double plus taxes)
$189 a night (suite)
Reservations (Overflow)
ONLINE is preferred.
Or call 210-509-3700 and mention NCMPR.
NCMPR has blocked a limited number of rooms at discounted group rates at the Courtyard by Marriott. The hotel is just a few minutes from conference headquarters, and the Marriott will provide complimentary shuttle service. Availability is limited, so don't delay in making your reservation.