2019 District 7 Conference
Oct. 23 - 25, 2019
Friday Harbor (San Juan Islands), Washington

SAVE THE DATE!
Set Sail for a New Destination
If you are looking for a marketing and public relations conference with a destination that will inspire, rejunvenate and get you thinking about creating more compelling content, join your District 7 peers as they "Set Sail" for Friday Harbor, Washington this fall.
Get ready for an NCMPR District 7 conference experience like never before. Explore the San Juan islands, savor first class Northwest cuisine, learn about local history, and engage in discussions and presentations around topics such as equity and inclusion, creating consistent customer experiences, photograpy, and how to put yourself in the right frame of mind for success.
Enjoy your stay at the Earthbox Inn and Spa in the heart of downtown Friday Harbor, just a short walk from the ferry landing. San Juan Island is the most populated of the four major islands that make up the 172 island archepeligo. There are plenty of things to do and experience from browsing local art, to wine tasting, to whale watching. Come experience how the islands can spark your creativity, relax your mind, and help you become a better marketing and public relations professional.
Mark your calendars for October, and watch for more details to come!
Questions?
James Walters
District 7 Director
Skagit Valley College
360.416.7957
james.walters@skagit.edu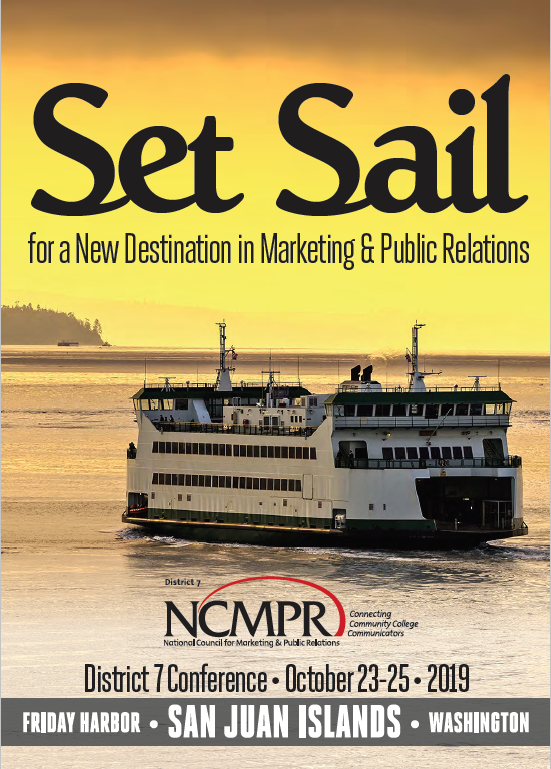 Be a Conference Presenter
If you have a best practice or innovative approach to your work, consider being a District 7 conference presenter. Click below for more details.