Show District 7 Your Marketing Gust-o!
2023 DISTRICT 7 CONFERENCE
Oct. 18-20
Hood River, Oregon
Bring your expertise and winning communications strategies to this year's conference as a presenter!
One of the best highlights of the conference is hearing from our marketing counterparts. We want to hear your best practices, secret tips, new discoveries, aha moments, lessons learned, and successful projects (or not successful). Share what's relevant in your world and help lead conversations with your colleagues.
Here are some topics we're looking for, based on our District 7 survey data. Have something else on your mind? We're all ears!
Doing more with less
Marketing through effective storytelling
Utilizing AI or marketing automation
Maintaining creativity when you're feeling burnt out
Website tips and tricks and SEO
Emerging social media platforms
Marketing's role in DEI initiatives and/or advocating for DEI within a culture of resistance
Wellness and taking care of ourselves
Go for the gust-o! NCMPR is at its best when we're learning from each other. Show us what you've got going on at your college and tell us how you're doing it!
See the submission guidelines for details and submit your proposal today!
SUBMISSION GUIDELINES & SUBMIT A PROPOSAL
The deadline for submitting a proposals is now closed.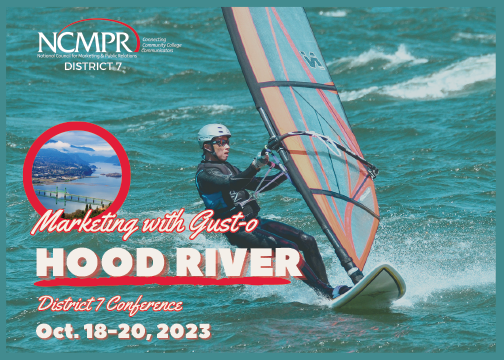 Types of Presentations
Breakout Session: 'Shock and awe' us during a traditional 60-minute session. Perfect for larger initiatives or projects, long-form case studies, or presentations that use audience participation and engagement alongside full slide decks.
Short Takes: This quick-and-to-the-point 30-minute session is designed to share brief 'how-to' subjects, short case studies, or succinct, facilitated conversations that don't need a full slide deck.
Questions?
Marisa Pierce, District 7 Director
Skagit Valley College, WA
(360) 416-7957
[javascript protected email address]
Katherine Hedland Hansen, Conference Content and Programming Coordinator
Renton Technical College, WA
(425) 235-2356
[javascript protected email address]