Ride the Creative Flow
2022 DISTRICT 7 CONFERENCE
Oct. 20-22
Vancouver, Washington
Ideally located on the north bank of the Columbia River, Vancouver is as naturally beautiful as it is diverse. Explore many things to do, and you will find no other city in the Pacific Northwest that offers such a combination of colorful history, recreational activities, charming shops, extraordinary restaurants, a burgeoning craft brew scene, charming hospitality and premier events.
The theme of this year's conference is "Ride the Creative Flow." Inspired by the mighty Columbia's intrepid spirit that has historically brought opportunity, resources, and power to the region, Vancouver is the perfect location to connect, innovate, and share best practices with your fellow two-year marketing and communications pros.
Do you have innovative marketing and communication ideas or best practices to share? We want to hear from you! Bring us your best, and do not be afraid to suggest something totally different. See the submission guidelines for details and a list of preferred topics.
The deadline for submitting a proposal is now extended to July 11.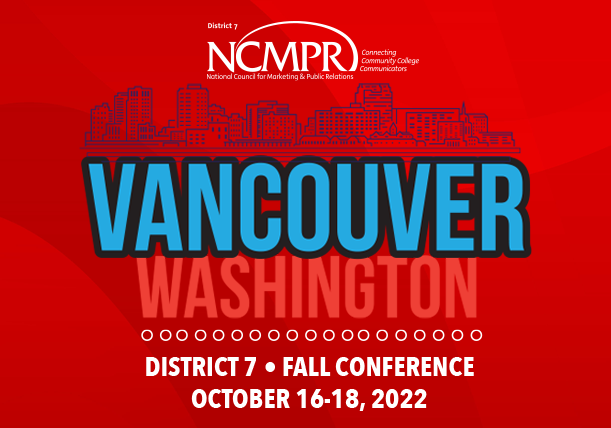 Types of Presentations
Long Form Sessions: 60 minutes in length but prepare for 45 minutes with time for questions or dialogue. These are perfect for long-form case studies or presentations allowing for in-depth coverage of a topic that uses audience participation and engagement alongside full slide decks.
Short Form Sessions: 30 minutes but prepare for 25 minutes with time for questions. These are straight to the point delivery sessions and work best when you're covering "how-to" subjects, brief case studies in marketing and communications wins, or a short, facilitated conversation that doesn't need a full slide deck.
Questions?
Marisa Pierce, District 7 Director
Skagit Valley College
(360) 416-7957
[javascript protected email address]