RENEW BY THE RIVER
2022 DISTRICT 5 CONFERENCE
Sept. 26-28
Sioux City, Iowa
The 2022 NCMPR District 5 Conference will be held in Sioux City, Iowa at the Hilton Garden Inn, located on the Missouri River. Let's enjoy beautiful views and a relaxing setting as we learn from industry experts, special speakers, and each other. Our goal for this conference is to send you away with renewed skills, creativity, and mindsets.
SHARE WHAT YOU KNOW – BE A PRESENTER!
Hearing from our marketing counterparts is one of the highlights of the conference. We'd love for you to tell us about your innovative ideas, new discoveries, success stories, lessons learned, and projects that went well (or not so well).
See the submission guidelines for details and a list of topics.
The deadline for submitting proposals is now closed.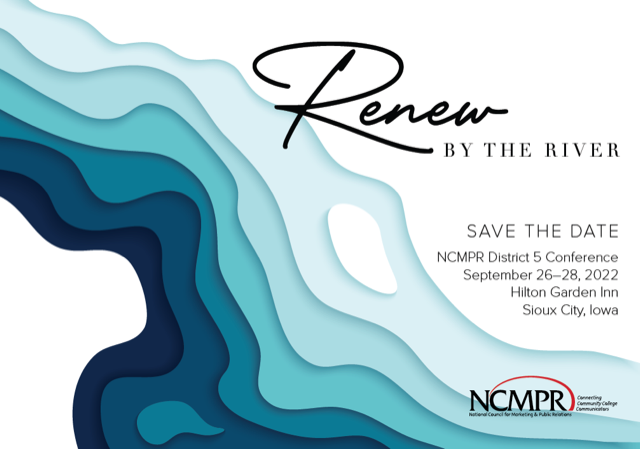 Types of Presentations
Breakouts sessions: a 60-minute presentation that provides in-depth coverage of a topic. Allow time for Q & A.
Quick takes: a 30-minute presentation that gets straight to the root of particular challenge or task and offers quick tips to successfully address them. Allow time for Q & A.
Persons submitting may be asked to consider switching formats depending on volume and type of submissions.
Questions?

Kristin Kollbaum, District 5 Director
Northwest Iowa Community College
(712) 631-5634
[javascript protected email address]