GO FOR THE GOLD
2023 DISTRICT 4 CONFERENCE
Oct. 11-13
Colorado Springs, Colorado
Join your NCMPR colleagues this fall at the 2023 District 4 conference. We're inviting you to go for the gold in Olympic City USA – Colorado Springs, Colorado.
Do you have winning ideas to share? We want to hear about your creative, problem-solving solutions and the great work you've done on your campus over the past year. Submit your presentation proposal today!
We are open to all ideas, but priority consideration will be given to member requested presentations in areas of digital advertising, social media, video, and recruiting or enrollment. Click here for some further ideas on presentation topics.
See the submission guidelines for details and submit your proposal today.
SUBMISSION GUIDELINES & SUBMIT A PROPOSAL
The deadline has passed for submissions. Please contact the district director for speaking opportunities.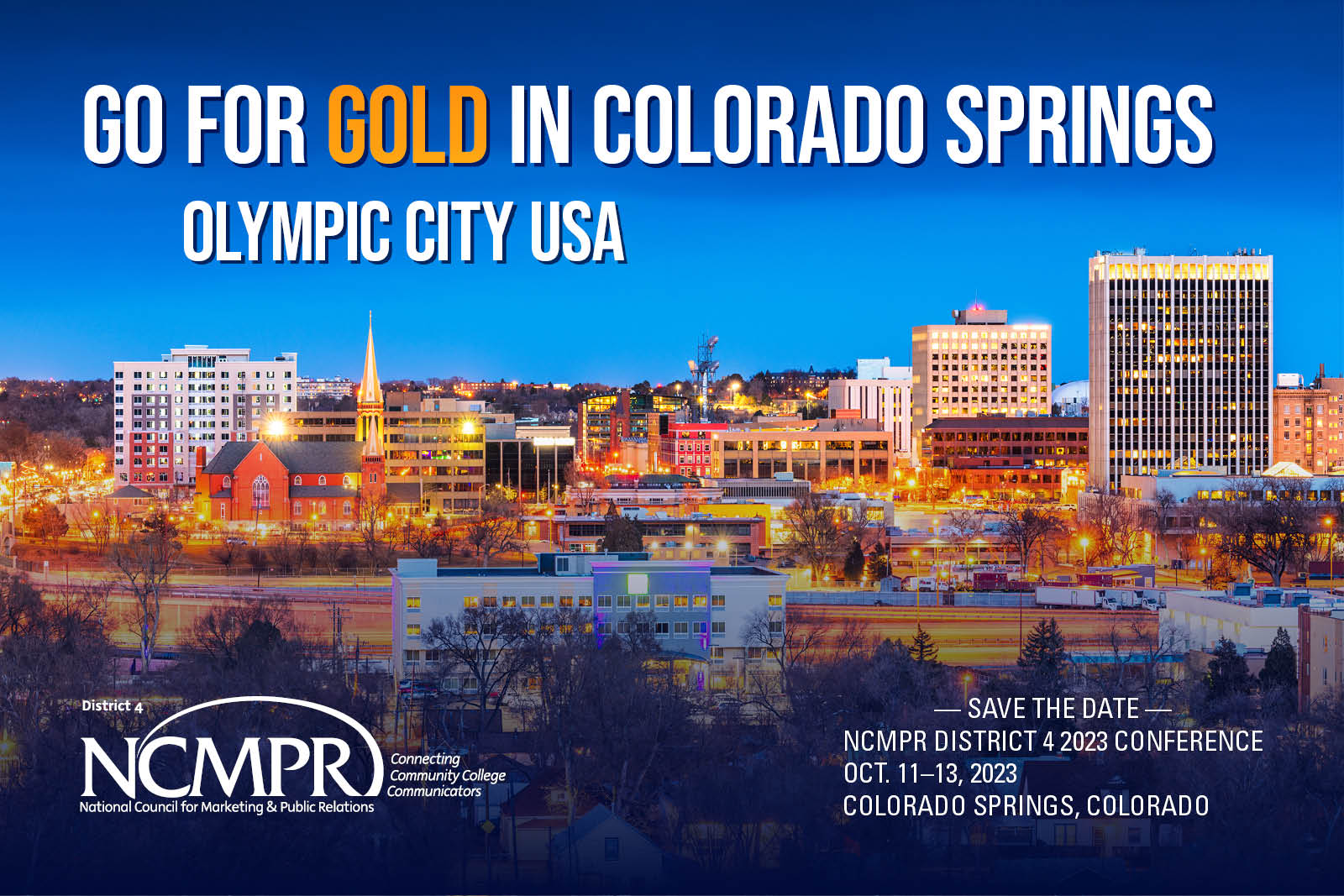 TYPES OF PRESENTATIONS
Breakouts: Breakout sessions are 60 minutes in length, allowing for in-depth coverage of the topic at hand, along with time for questions and answers.


Short Takes: Short Take sessions get straight to the point to deliver helpful tips on a variety of subjects in a roundtable format.
Both breakouts and short takes are designed to showcase the very best ideas in community college marketing and PR, with emphasis on current trends, exemplary practices and proven approaches.
QUESTIONS?

Matt Radcliffe, District Director
Pikes Peak State College
(719) 502-2022 | [javascript protected email address]
Lisa Elliott, Conference Content/Programming Coordinator
El Paso Community College District
(915) 831-2435 | [javascript protected email address]