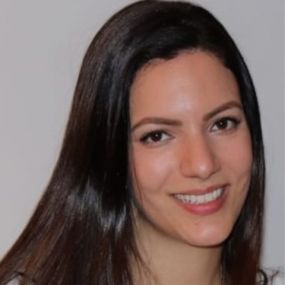 2019 District 7 Rising Star
Paula Massari Iervolino
Marketing and Communications Coordinator
Langara College
British Columbia, CAN
Paula Massari Iervolino joined the marketing and communications department at Langara College in British Columbia, Canada, as an intern while also finishing her post-degree diploma in marketing management. Realizing what an asset she was, the department created the communications coordinator position to keep her as a full-time employee. Since then, Massari Iervolino's responsibilities have continued to grow. She now oversees basic print production, assists with numerous social media projects and manages large scale events and photo shoots.
Keen to embrace opportunities, Massari Iervolino maintains her focus on the project at hand while juggling her support duties for 10 communication officers and three managers. During a recent project called "Writing Lives" where students researched and interviewed Holocaust survivors, Massari Iervolino coordinated with faculty and invitees and managed event logistics, including invitation responses, catering, signage and photography for the community-wide celebration.
Massari Iervolino has displayed the ability to carefully plan projects, foreseeing obstacles and possible delays and preparing strategies to address them. She organized a Student Life photo shoot that continues to provide valuable photography assets for college-wide print and digital publications. The photo shoot required significant preparation, including contingency plans in case of cancellation, team member coordination and student recruitment for a full day of photography.
With an acute interest in developing her marketing and communications skills, Massari Iervolino takes advantage of professional development opportunities from industry organizations, including the Canadian Public Relations Society (CPRS) and NCMPR. Her drive has led her to explore free and low-cost training opportunities in the form of webinars, white papers and blogs. Massari Iervolino also seeks opportunities to learn more about communications within higher education and across other sectors.
"It's this willingness to learn that makes her a pleasure to work with and makes her a valued member of our team," says Mark Dawson, Langara College's public affairs manager and Iervolino's nominator. "She has proven to be a quick study, keen to embrace opportunities to learn from others but also willing to contribute her own creative ideas and opinions."