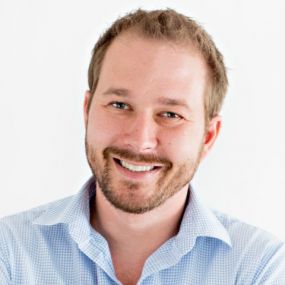 2019 District 5 Rising Star
Jay Scherder
Director of Public Relations
East Central College
Union, MO
Thanks to Jay Scherder's background in broadcast journalism and K-12 public relations, he had the right mindset and vision to take on the role of director of public relations at East Central College in Missouri in 2016. Soon after Scherder's arrival, the college's marketing became more sleek, modern and strategic. Photo quality improved, video production increased and graphic design shined.
Scherder's work with the college Facebook page earned a 2018 NCMPR Bronze Paragon Award. His use of compelling, engaging content has increased organic reach and impressions by more than 30%, and page likes have increased more than 20% in just three years. His use of short-form videos has proven wildly successful, with video views up nearly 70% over the course of a year.
In 2018, Scherder helped launch a major rebranding effort. Enrollment in East Central College's Community Education summer programs for children had been in decline. The program didn't have an identity or clear direction. Working with the program coordinator, Scherder helped launch the East Central College Summer Learning Academy. With stylish new branding, revamped classes and a strategic marketing campaign targeting parents, nearly 220 students signed up for the summer offerings – a 70% increase from the previous year.
Scherder is also a gifted storyteller. He uses the skills he crafted as an award-winning journalist to take complicated, jargon-filled information and turn it into compelling, interesting material.
Scherder is a natural leader who never shies away from a challenge. He has been instrumental in the strategic planning process, helping shape the narrative at the college. When East Central College celebrated its 50th anniversary this past year, Scherder was involved in every aspect of the celebrations, from branding and event planning to media relations. He also serves as the college representative to the Franklin County Bicentennial Committee and the St. Clair Chamber of Commerce.
Scherder is actively involved with NCMPR and continues to grow his presence in the organization. He has volunteered to judge various awards over the last two years and attended his first NCMPR conference as a scholarship winner in 2018. There, he also received his first Paragon Award. In 2019, Jay volunteered for NCMPR's new Programming Committee, which is charged with developing relevant programming for members to help position NCMPR as the premier professional development organization for community college communicators.