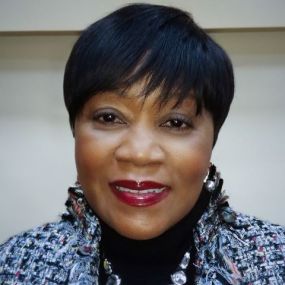 2021 District 1 Pacesetter
Dr. L. Joy Gates Black
President
Delaware County Community College
Media, PA
Dr. L. Joy Gates Black was selected unanimously by Delaware County Community College's Board of Trustees in 2017 to be the fourth president of the college. She is the first woman and the first Black leader to head Delaware County Community College.
Dr. Gates Black is a strong community advocate, responsible for a variety of successes that help the college and area both grow. Under her leadership, the college created an Office of Diversity, Equity and Inclusion, as well as the Center for Equity & Social Justice, which helps fulfill her vision to help dismantle systems of racism and social injustice in the community.
In July 2020, Dr. Gates Black joined the Reskilling and Recovery Network, a partnership between the National Governor's Association Center for Best Practices and the American Association of Community Colleges, with support from the Lumina Foundation and the Siemens Foundation. The network aims to address the equity disparities that increased during the COVID-19 pandemic. Various governors' offices, community colleges and workforce leaders represent 20 states to equip workers to successfully navigate transformational changes in the economy.
In May 2021, the Delaware County Community College became one of 27 institutions nationwide selected as a Center of Excellence for Domestic Maritime Workforce Training and Education by the U.S. Department of Transportation's Maritime Administration (MARAD). The designation recognizes the college's long history of preparing students through education, training and apprenticeships for careers in the U.S. maritime industry.
Pennsylvania Gov. Tom Wolf recently announced that the college will receive $1.1 million through the state's Manufacturing Training-to-Career Program to train move than 300 individuals for high-demand occupations in welding, shipbuilding and manufacturing.
Dr. Gates Black helps advance community colleges through her work on the board of directors for the American Association of Community Colleges and the board of advisors at ACT/National Research Center for College and University Admissions. She also serves as a presidential sponsor for the Pennsylvania Network of the American Council on Education.