March 30-April 1, 2023
Rosen Centre, Orlando, Florida
Whether you're a one-person staff or a team of 20, new to the group or boasting plenty of conferences past, NCMPR in Orlando will be just the thing so you can feel sure in your role. That's because we'll have 20 Breakouts and 10 Short Takes to help you work better.
Preview the At-a-Glance Registration Brochure
---
Conference Fees
Early-bird rate: $700
Regular rate: $750
(Early-bird deadline: Feb. 22)
General conference fees include attendance to all program events except the Pre-Conference Labs.
Pre-Conference Labs Rate: $150
Bonus! Sign-up during the early-bird registration period and save $50 off your Pre-Conference Lab fee.
Please note: The national conference is for NCMPR members. If your college does not have an institutional membership (3 or more members) and you are registering a staffer who is not a member of NCMPR, please email [javascript protected email address] for eligibility and instructions. Join or renew your membership today.
Refund Policy
Cancellation and refund requests must be made in writing on or before Feb. 28, 2023. NCMPR will issue a refund of the conference fee, minus a $150 administrative fee. Email cancellation requests to

[javascript protected email address]

.
No refunds will be granted for requests made after the deadline.
For special circumstances such as family or medical emergencies (including COVID-19) that arise after the deadline, NCMPR will issue a full refund upon receipt of proper documentation.
Substitutions are gladly accepted.
---
Scholarships
NCMPR offers $400 scholarships to offset the cost of attending the 2023 national conference. Each of NCMPR's seven districts will offer one general scholarship and one diversity, equity and inclusion scholarship. Scholarships are now open.
Learn More Here and Apply Today
---
Exhibitor and Sponsorship Opportunities
NCMPR will once again offer various sponsor and exhibitor opportunities for the 2023 national conference. More details to be announced December 2022.
---
Questions?
James Walters
Executive Director
(505) 349-0500, ext. 1
[javascript protected email address]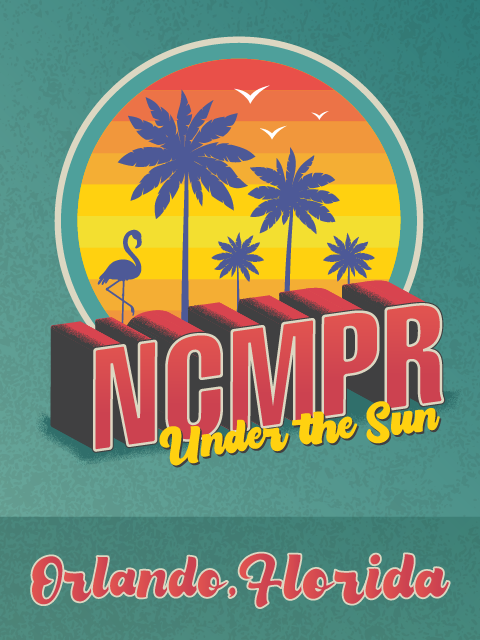 Hotel Reservations
Rosen Centre Hotel
9840 International Drive
Orlando, Florida 32819
Room Rate: $189 per night (plus applicable taxes)
Reservation Cutoff: March 6
NCMPR has blocked a limited number of rooms at the special group rate. This guarantees the rate but not room availability. The room block may fill earlier than the deadline so make your reservation EARLY!
---

What, Exactly, is a Flamingle?
Q: What do you call a group of flamingos?
A: A flamboyance
Seriously, that's a real word. Don't you love it when a word fits just right?
Kick off NCMPR Under the Sun with your coast-to-coast peers at the conference's opening reception, aka a Flamingle (which you won't find in the dictionary, but we think it fits just right, too). We'll have drinks and snacks poolside. Post-Flamingle, our flamboyance will move into district meetings, then directly into the conference's opening keynote.