Navigating Change: Charting a Path for What's Next
2022 DISTRICT 6 CONFERENCE
Oct. 13-14
San Diego, California
What comes next? That's the question many of us are asking as we look toward a "new normal" in the wake of the pandemic. We invite you to join us for NCMPR's District 6 2022 Fall Conference, where we will chart a course for the future, together.
We're looking for proposal topics that focus on best and promising practices for everything ranging from advertising strategy and digital marketing, to videography and visual communications. Sessions and panels should showcase the best ideas in community college marketing and PR, emphasizing current trends, exemplary practices and proven approaches.
See the submission guidelines for details and a list of topics.
The deadline for submitting proposals has been extended to July 22.


Questions?

Andrea Rangno
District 6 Director
Orange Coast College
(714) 432-5022
[javascript protected email address]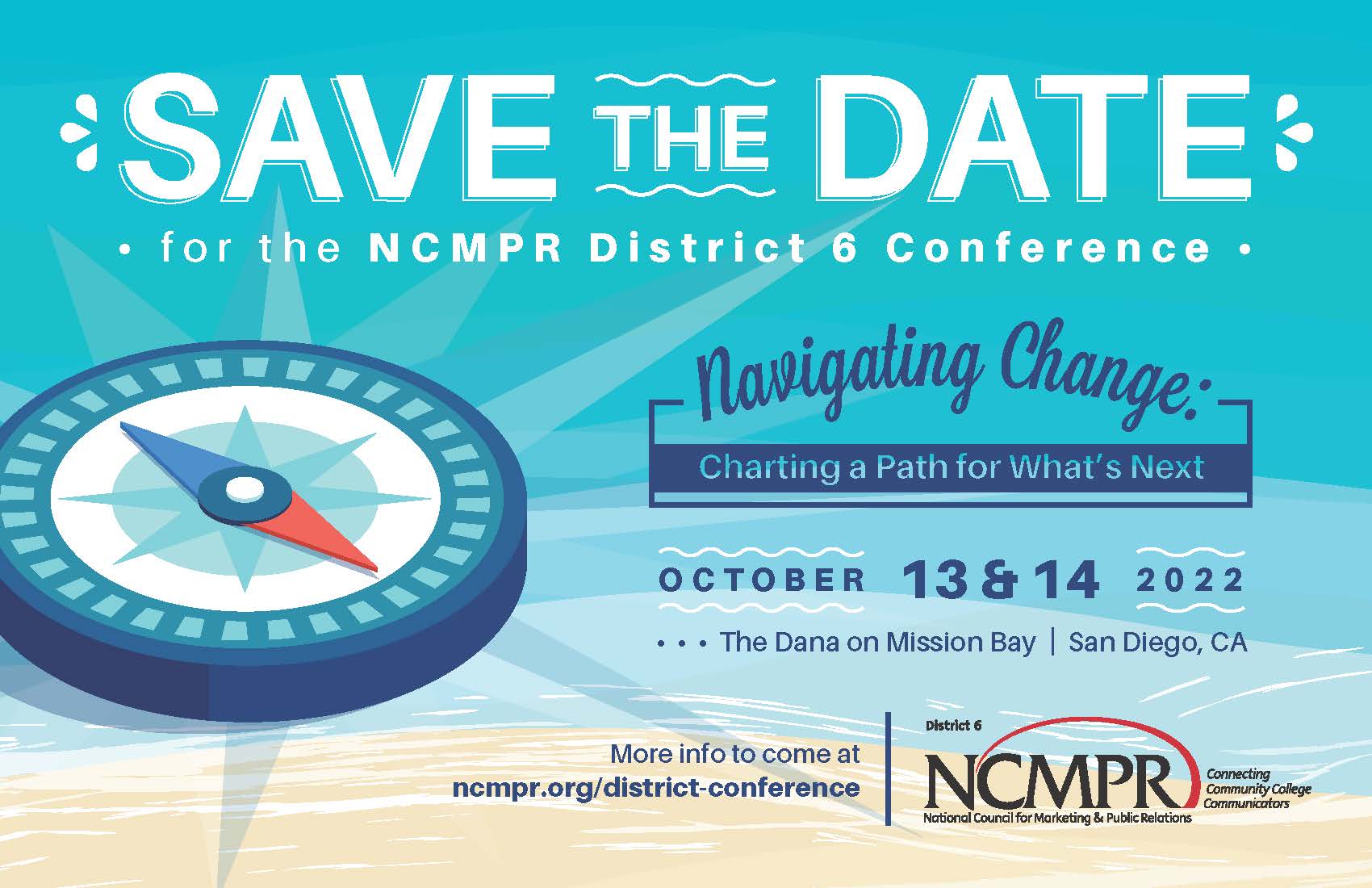 Types of Presentations
Breakout Sessions are 60-minutes in length, but you should prepare for 45-minutes with time for questions or dialogue. Breakouts are perfect for long-form case studies or presentations that use audience participation and engagement alongside full slide decks.
Short Take Sessions are 30 minutes in length and get straight to the point to deliver helpful tips on a variety of topics. Short Takes work best when you're covering quick "how-to" subjects, brief case studies in marketing and communications wins, or a short, facilitated conversation that doesn't need a full slide deck.
Roundtable Sessions are 30 minutes in length and offer you a chance to lead a discussion around a specific topic. These sessions are meant to be highly interactive, offering participants a chance to share best practices, lessons learned, feedback and more. These typically do not require a slide deck, but can include handouts.